Darwin Urban Seniors' Lifestyle Accommodation Project
The Northern Territory (NT) Government is seeking proposals to develop a seniors' lifestyle accommodation (SLA) community in the Darwin urban area.
This is a one stage competitive process to facilitate private sector development of the project.
The request for detailed proposals (RFDP) process provides a flexible framework to deliver a high quality and commercially sustainable project. Proponents need to complete and lodge their RFDP submission by no later than 4pm (ACST) on 14 October 2019. It is important to note that registrations for the project closed on 16 August 2019.
It is anticipated that an announcement of the RFDP outcome will be made late 2019 / early 2020.
General enquiries in relation to the project should be emailed to seniorsaccomm@nt.gov.au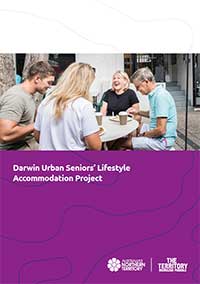 Get the request for detailed proposals brochure:
Darwin Urban Seniors' Lifestyle Accommodation Project: request for detailed proposals PDF (4.3 MB)
Darwin Urban Seniors' Lifestyle Accommodation Project: request for detailed proposals DOCX (389.3 KB)
Last updated: 16 October 2019