Alice Springs Seniors' Lifestyle Accommodation Project
The Northern Territory (NT) Government is seeking expressions of interest from suitably qualified parties (proponents) to develop and operate a seniors' lifestyle accommodation (SLA) village in Alice Springs.
The NT Government is undertaking a two-stage competitive market process:
stage 1 - expression of interest: raise awareness of the opportunity and invite submissions from suitably qualified / experienced entities
stage 2 - request for detailed proposals: invite shortlisted proponents to submit binding detailed proposals.
The expression of interest process provides a flexible framework to deliver a high quality and commercially sustainable project.
The NT Government has identified a site that it is available for the project. Lot 10019 Town of Alice Springs (15 Irrampenye Street) is a 5.58 hectare Crown land site that provides significant development potential for a SLA village.
Interested parties will need to register in order to submit an expression of interest. Registrations closed on 15 May 2020.
Proponents should complete and lodge all necessary expression of interest documentation by no later than 10am (ACST) on 29 May 2020.
General enquiries in relation to the project should be emailed to seniorsaccomm@nt.gov.au.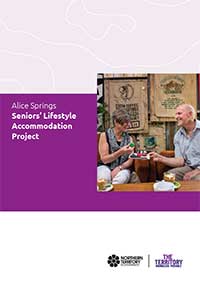 For further information on the expression of interest process, get the brochure.
Alice Springs Seniors' Lifestyle Accommodation Project: expression of interest brochure PDF (8.7 MB)
Alice Springs Seniors' Lifestyle Accommodation Project: expression of interest brochure DOCX (629.3 KB)
Registered proponent
Parties interested in submitting an expression of interest will need to register as a proponent. The NT Government will satisfy itself that any party seeking to register is a bona fide proponent and is likely to deliver the project.
Parties registering interest will be advised on the outcome of their application within three business days of registering.
Registrations for the expression of interest process are now closed.
Interested parties
Parties that are interested in collaborating with registered proponents to deliver the project are encouraged to contact the Industry Capability Network NT (ICN NT).
Participation as an interested party through ICN NT is voluntary.
Parties that wish to identify their interest through ICN NT will need to consent to their information being provided to registered proponents.
For more information and to register your interest, go to the ICN Gateway website.
Last updated: 29 May 2020
Share this page: