Business bulletin - 29 March 2018
Visa changes come into effect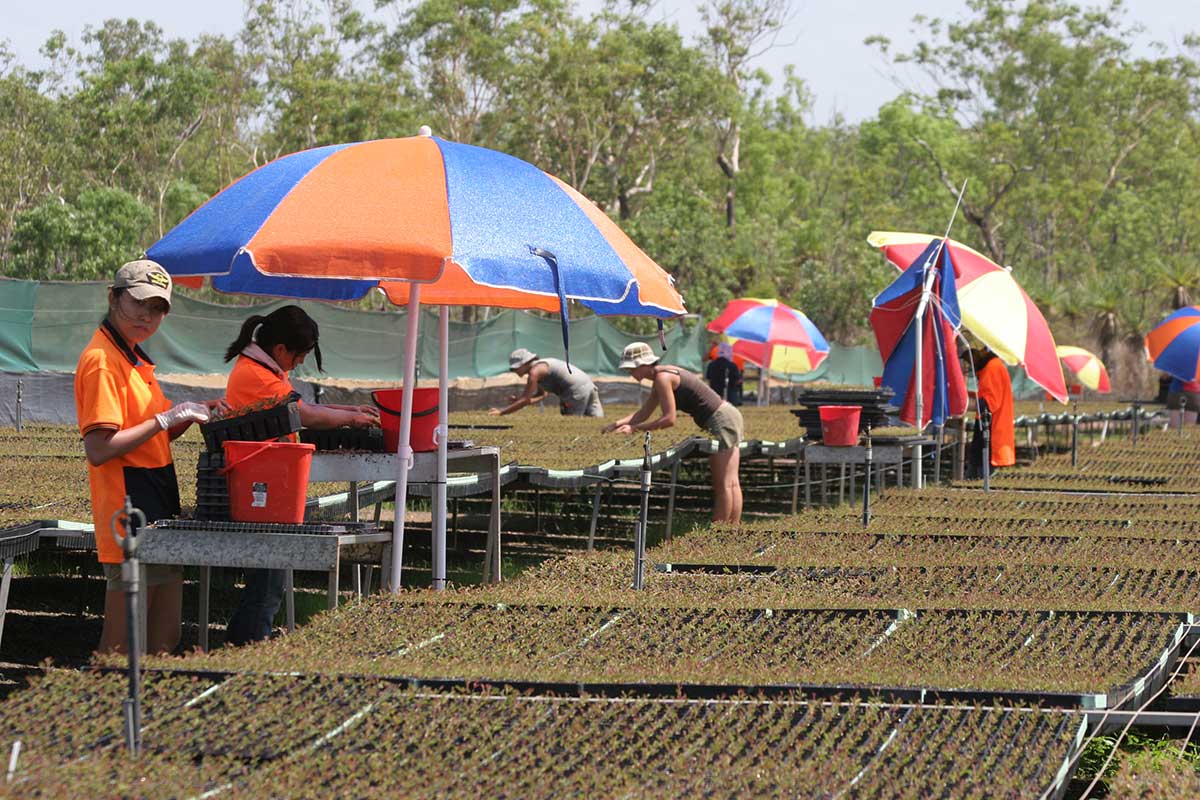 A range of significant changes to visas for international skilled workers came into effect last week.
Executive Director of Workforce NT Catherine White said that from 18 March 2018 the Australian Government was implementing a new Temporary Skill Shortage visa (482) which replaces the Temporary Work (Skilled) subclass 457 visa.
"It's important that employers utilising this visa type are aware of the changes when engaging international workers," Ms White said.
The key changes are:
The changes are also outlined in this summary:
Summary skilled migration program changes (47.5 kb)
Summary skilled migration program changes (44.4 kb)
Transitional arrangements have also been put in place and will apply to persons who held or had applied for a 457 visa on 18 April 2017.
Ms White said the existing arrangements under the Northern Territory's Designated Area Migration Agreement (DAMA) remained largely unchanged, apart from the fact that a different visa type now applied (now 482 rather than 457) and that increased labour market testing was required.
Employers who sponsor DAMA workers will have been sent an updated labour agreement to cater for the new arrangements.
"Please ensure you review and sign the updated labour agreement as soon as possible, if you would like to utilise the new program, as you won't be able to lodge nominations with Department of Home Affairs until you have," Ms White said.
To help inform possible future changes to the DAMA agreement, the Department of Trade Business and Innovation has engaged McGregor Tan Research to undertake an evaluation of the NT DAMA program.
"Employers who are or have been involved in the NT DAMA will have been contacted McGregor Tan with an invitation to complete an online survey," Ms White said.
"Please take the time to compete the survey as your input will be invaluable in making improvements to the NT DAMA as well as supporting our negotiations for a second program."
For further information and advice please contact MigrationNT bu emailing migration@nt.gov.au or calling (08) 8999 5264.
Have your say - Aboriginal Contracting Framework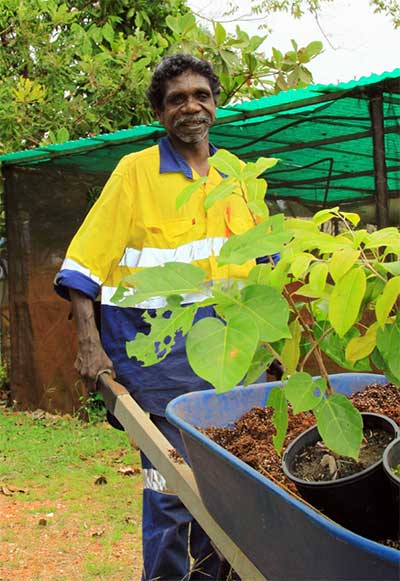 Territorians have an opportunity to put forward their thoughts and ideas on the development of a new Aboriginal Contracting Framework for government procurement and grants.
The new framework will be developed through an extensive stakeholder engagement process. Although the new framework will have a wide reach, for infrastructure works, it will replace the Indigenous Employment Provisional Sum policy which ceased in August 2017.
Targeted stakeholders sessions with government, industry, business, Aboriginal stakeholders and non-government organisations will begin next month to identify and consider different ideas for the Aboriginal Contracting Framework.
"We're committed to keeping the community, industry and stakeholders informed, listening to ideas, and providing feedback on how the input received has influenced decisions," Sibylle Brautigam, Deputy Chief Executive of the Department of Trade, Business and Innovation said.
"A 'Have your say' website has been published and will be updated regularly as the consultation process progresses."
"The first step is information gathering and research, which includes a survey that is open to the public through the website, and the collation of feedback and insights from a range of stakeholders."
"This first step is critical. We understand that the development of an effective framework can only be achieved through stakeholder involvement, and by incorporating a range of expertise and ideas," Ms Brautigam said.
"The second step will be the creation of policy options based on the initial research and feedback. We will test these policy options with stakeholders to determine which are most likely to be effective."
Once these steps have been completed, a consultation report and proposed policy direction will be released for public comment.
The new policy will be publicly release in early 2019.
Locally based GHD has been selected to work with the government project team to help facilitate stakeholder engagement.
For the public to have their say go to www.acf.nt.gov.au
Canvassing talent through economic development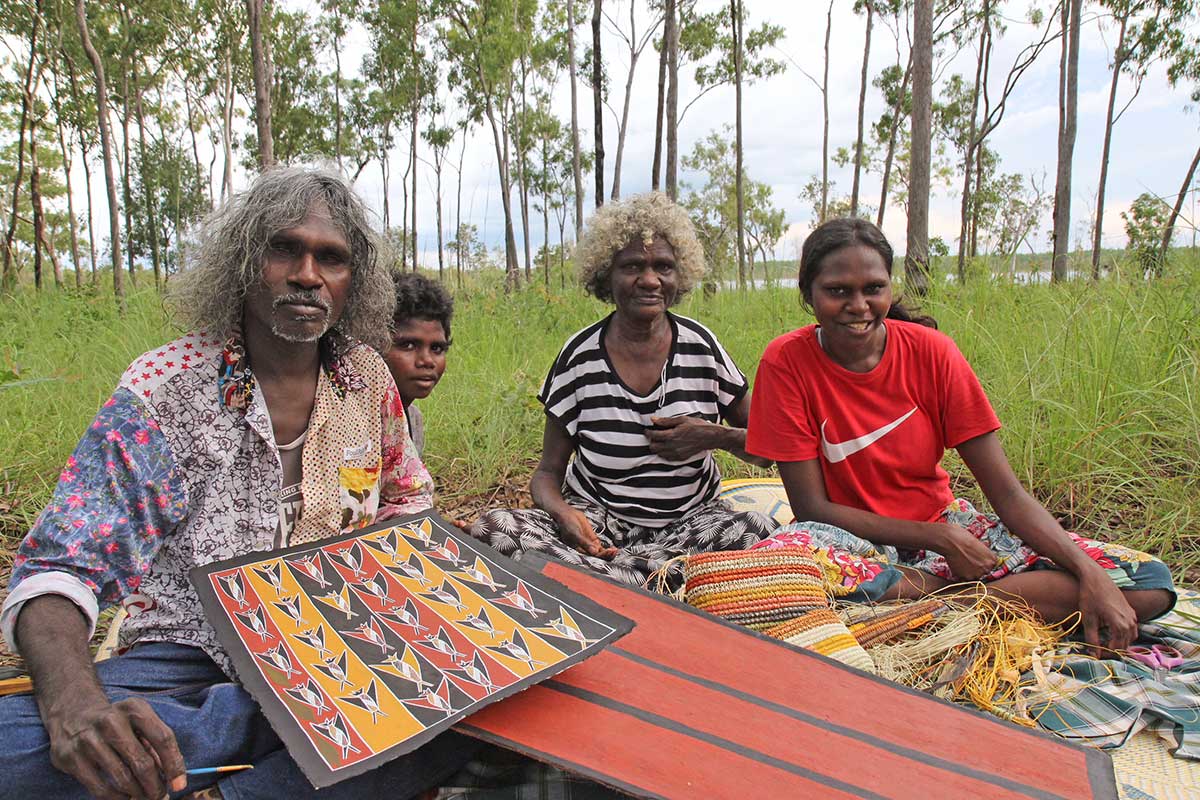 It's been a good few months for the arts scene at the small but vibrant community of Gapuwiyak.
Arts centre chairman Johnny Warrkatja won the inaugural Kestin Indigenous Illustrator Award from publisher Magabala Books and will be illustrating a children's book written by Sally Morgan.
And now the Gapuwiyak Culture and Arts Aboriginal Corporation has been given a Northern Territory Government grant to carry out much-needed work to the arts centre and pay for supplies.
"The grant is very important to us," says manager Trevor van Weeren. "It will allow us to make life a lot easier."
The grant comes from the Remote Aboriginal Development Fund, which has awarded $1.7 million to projects that will drive economic development, create local jobs, and support capacity building in remote communities.
Forty-three projects by Aboriginal enterprises, partnerships and not-for-profit organisations have received funding.
Gapuwiyak has about 100 artists among of population of only 1,200.
The grant will help the corporation pay for goods and services, including labour, freight and materials for a new veranda, two storage cupboards, plumbing and electrical works.
Mr van Weeren says the new veranda will create more space for artists and storage.
And a set of stairs will give easy access for tourists from the art centre down to a traditional bush shelter.
Art plays an important ceremonial role in Gapuwiyak, but artists also want to earn income by selling some of their works.
"Our problem is always getting the art to market," says Mr van Weeren.
Outback Spirit tour buses will begin driving along the main road 25km away, two to three times a week during the dry season.
"We want them to chuck a left and come into the community," says Mr van Weeren. "We'd put on a bit of a show for the tourists and give them the chance to buy great art.
"The Yolngu are very happy and proud to show their culture to other people."
The corporation also provides opportunities for meaningful employment and training in the arts and retail.
Keeping cool in the tropics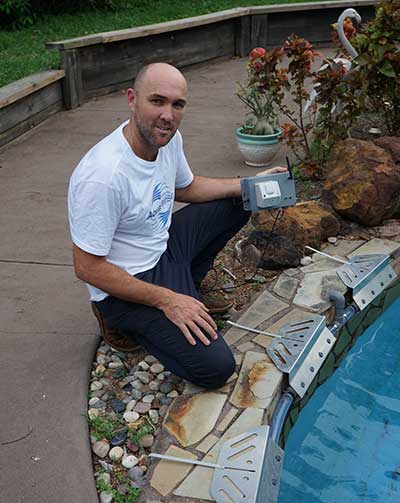 Like many people living in Darwin, Michael Bruvel was disappointed that his new pool was as warm as a bath and provided no relief from the heat and humidity.
So he decided to do something about it.
Michael has developed a clever water-cooling system called Aquasense. It can be used on everything from a backyard swimming pool to an aquaculture pond or a swimming lagoon.
Aquasense provides a web-based interface that allows algorithms to fine tune heat transfer and evaporative cooling processes in response to atmospheric conditions.
This allows for efficient cooling and automated temperature control of the pool during hot and humid weather.
It is triggered when poolside sensors - measuring humidity and ambient temperature, and using weather forecast data - assess that conditions are suitable for cooling and the water is above a chosen temperature.
The system even determines when is the most efficient and economic time to go into action.
The most obvious cause of soaring water temperatures in the tropics is the prolonged hot periods.
"If day after day the temperature isn't getting below 28℃, eventually your pool will get unpleasantly warm. Some pools I have monitored are 3℃ but it is common for pools in Darwin to be around 31 to 33℃, which is not refreshing.
"Using the Aquasense system, I maintain my pool at around 27 to 28℃, which is refreshing yet still warm enough to relax in."
Aquasense prototypes are working well in a few domestic pools around Darwin - and he sees great potential in the aquaculture industry where his web based system could automatically prepare facilities to manage the effects of heatwaves and improve productivity.
Michael has developed Aquasense with help from a Business Innovation Support Initiatives (BISI) grant from the Northern Territory Government.
BISI, which is managed by the Department of Trade, Business and Innovation, provides vouchers and grants to innovators.
Grants of up to $60,000 are awarded in rounds - round 5 is open until 18 April 2018 - and vouchers up to 60% for eligible projects with a maximum of $25,000 all year round.
To find out more about the BISI program go to nt.gov.au/bisi
Mission possible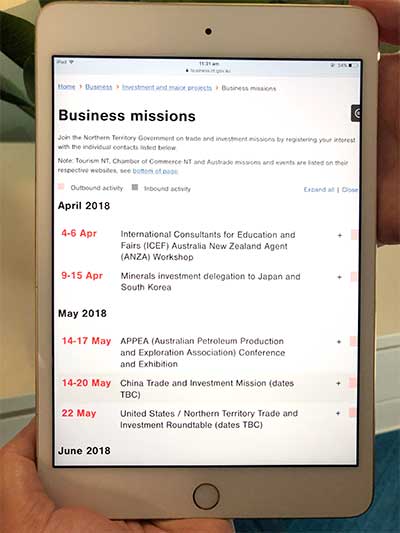 A new online tool has been created to help local business and industry stakeholders keep up to date with Territory led trade and investment business delegations.
The Department of Trade, Business and Innovation have developed an online business missions calendar to provide industry stakeholders greater visibility on upcoming events and more lead in time for participation.
The calendar will also improve coordination and planning of business missions and maximise the Northern Territory's presence in-market.
Although targeted at international travel, the calendar also includes significant domestic travel with an international trade, investment or business focus.
Businesses and industry stakeholders can register their interest by contacting the dedicated Northern Territory Government officer for the mission they're interested in.
View the business missions calendar.
For more information email investment@nt.gov.au

Last updated: 09 April 2019