Business bulletin - 26 April 2018
Northern Australia Infrastructure Facility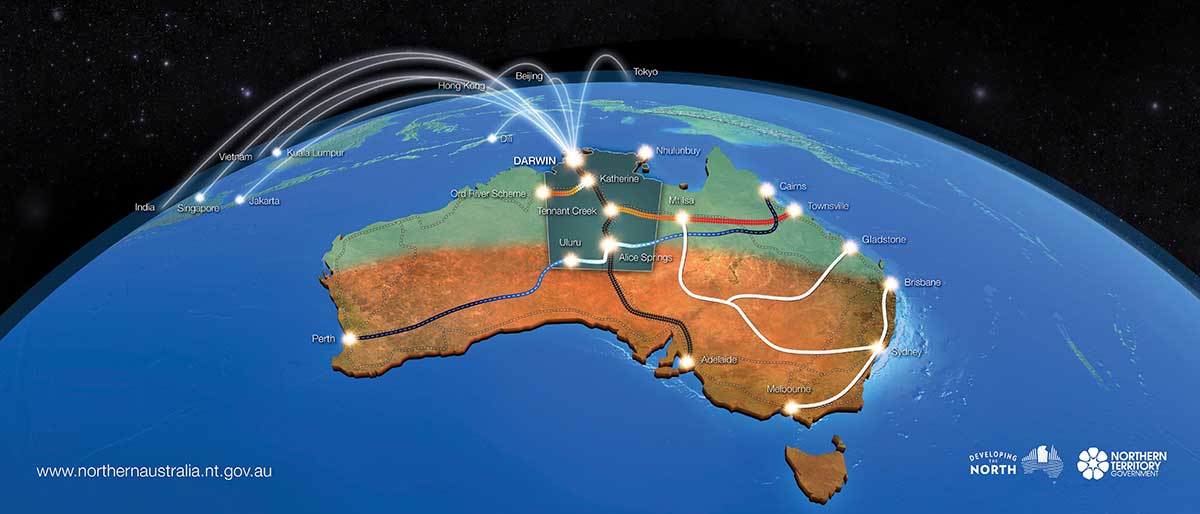 Economic development in northern Australia has taken a step forward following changes to the investment mandate of the North Australia Infrastructure Facility (NAIF).
The changes were announced at the second Ministerial Forum on Northern Development, in Kununurra last week. The forum provides cross-jurisdiction leadership to drive progress with the northern development policy agenda.
Changes to investment mandate will give the NAIF more flexibility in funding Territory projects and cut red tape for applicants.
The main changes are:
The removal of the $50 million project threshold, which was never mandatory, but created confusion for applicants and industry.
A change in definition of 'infrastructure' beyond road, rail and other projects, to also include supplies, services and facilities which are essential to establishing business in remote regions.
The removal of the 50% cap on the debt taken on by the NAIF. This will allows the NAIF more than half of the debt of a project, provided it is not the major risk taker.
To find out more about the new changes go to the Northern Australia Infrastructure Facility website
Shaping employment and career pathways through training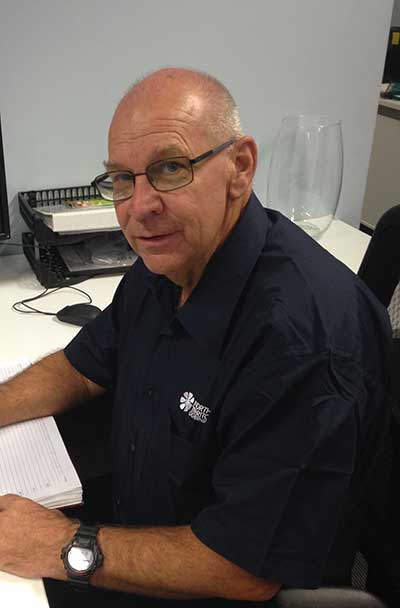 Grant Butler has had quite a few 'wins' at work over the years.
This Northern Territory Government workforce training coordinator has brought employers, and registered training organisations together to help shape better employment and career pathway opportunities for employees.
And in remote parts of the Northern Territory, the result has seen well-paid work for local Aboriginal workers.
"I get a lot of satisfaction out of this work," Grant says.
Grant is based in Alice Springs and his 'patch' runs from the Queensland border to the Western Australia border and from Barrow Creek to the South Australian border.
He talks to employers about training and related needs and can connect them with the appropriate services.
"My role is to identify the right type of skills that a business or employer might need for their workers and connect them to the best services available," says Grant.
Last year, Grant helped arrange training for 27 local Aboriginal men to enhance their skills to work on local civil construction projects across the MacDonnell region.
"They trained in operating various heavy machinery, such as backhoes, tractors, bobcats and tip trucks and some of the Aboriginal workers are now civil works supervisors."
Grant has also helped gain funding for construction work training, which has led to local community people working on home maintenance in Central Australian communities.
"I'm aiming for them to get work when the next round of contracts are awarded and I'm also hoping they can start apprenticeships.
"We want local people to be able to carry out the work rather than rely on outside contractors."
Grant is especially pleased that training coordinated under the Aboriginal Responsive Skilling Program has led to regional councils employing more local people.
"Councils now also have local Aboriginal people working throughout the organisation and it's great to walk into a council office and be greeted by a local Aboriginal person."
If you would like to discuss training options for your business or organisation you can contact Grant on (08) 8951 3441.
Young entrepreneur takes out small business achievement award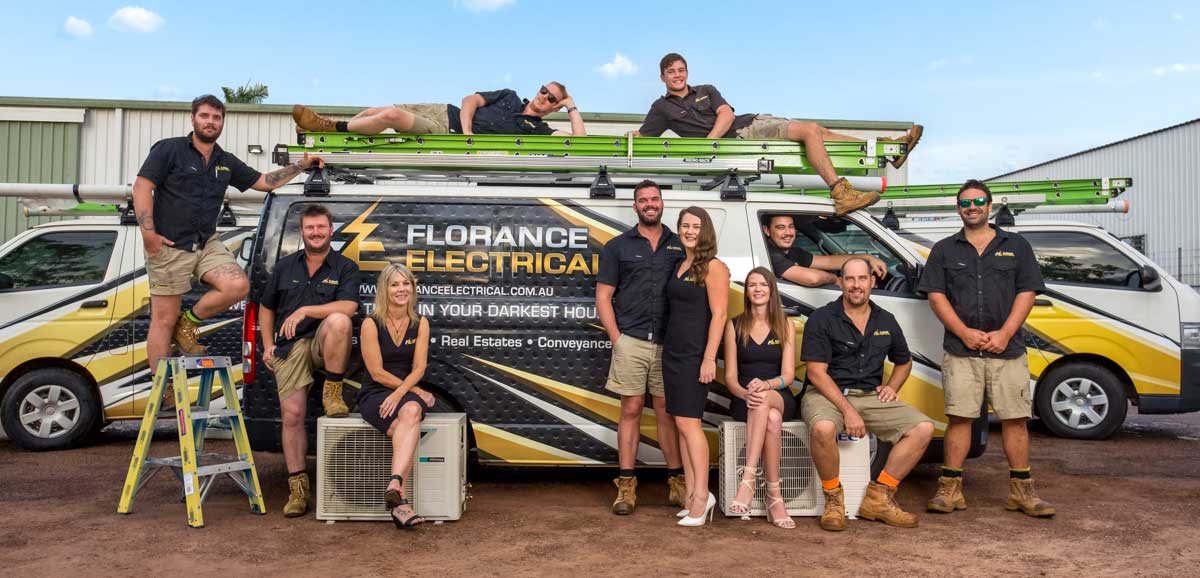 A young Territory tradie wanted to make his innovative ideas shine and build a business that was modern, energetic and puts clients first. At just 22 and with a desire to shake-up the industry, Alex Florance decided to take the leap and start a business.
Alex is the founder and owner of Florance Electrical, starting the business with a single van in 2013, now employing 15 people.
Alex's focus on growth, exceptional customer service and staff training resulted in him winning the 2018 Northern Territory Government Small Business Achievement Award at this year's NT Young Achiever Awards.
"Changing a client's outlook on the service industry in Darwin is very fulfilling.
"Being born in Darwin, it is very exciting to offer opportunities to Territorians through employment and training," explained Alex.
Evidence of his innovative approach to business, Alex recently modified an app to allow his staff to access information from anywhere, making his business a 98% paperless company.
He is also currently building another game-changing app.
"It will change the service industry, there is currently nothing on the market that can achieve what our new app will be able to achieve."
Alex's advice to young entrepreneurs or others looking to start a business?
"Go for it! There is no time like the present!"
For the full list of NT Young Achiever Awards winners go to the Awards Australia website
Getting conditions right for business growth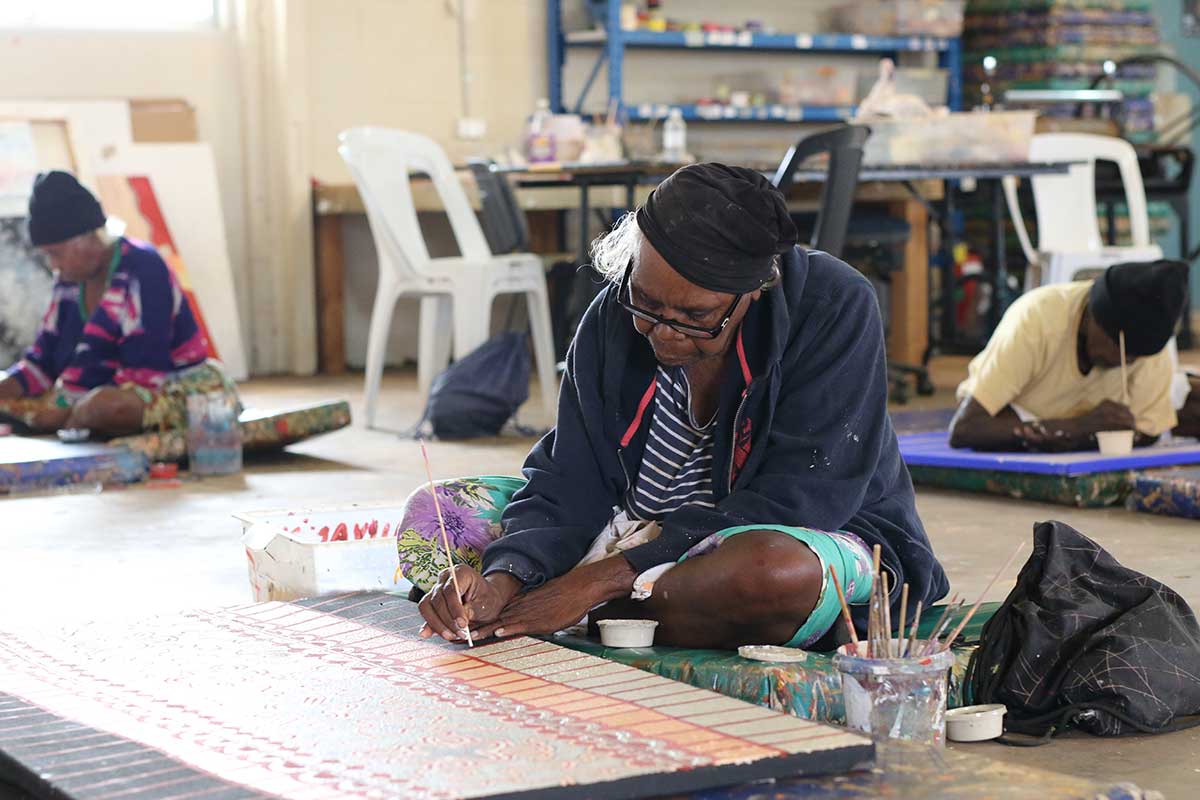 The remote Central Australian community of Papunya is in a land of extremes.
It can get very hot and very cold.
A CSIRO study found that the temperature in the workshop at the Papunya Tjupi Arts Centre can go over 40℃ during the summer and down to freezing point in the winter.
Scientists found this meant there were at least 40 days a year when it was impossible for the artists to work.
A grant from the Department of Trade, Business and Innovation under the Smarter Business Solutions program will allow the arts centre to replace the old evaporative cooling system - known as a swampy - with reverse-cycle air-conditioners.
"The work will start soon," says centre manager Joanne Byrne. "The air-conditioners will make life so much better.
"Artists will be able to work in comfort all year round at last, which will increase their productivity and income."
The new system will cool the workshop in the summer and warm it in the winter.
The Papunya Arts Centre is a not-for-profit cooperative.
Its 30 to 50 artists produce about 800 works a year between them, mostly acrylic paintings on canvas. Artists include the daughters of internationally renowned painters Johnny Warangkula, Shorty Lungkata Tjungurrayi and Long Jack Phillipus Tjakamarra.
The Smarter Business Solutions program is aimed at helping Territory businesses, Aboriginal enterprises and not-for-profit organisations reduce day-to-day energy, water, waste and material costs.
Types of support include advice on available efficient technologies and practices; a walk-through site survey to identify potential savings opportunities; and grants to encourage and support cost savings or initiatives.
If you would like to discuss ways to improve the profitability, sustainability or capability of your business, contact the Small Business Champions team on (08) 8999 5479.
Training takes apprentice to new heights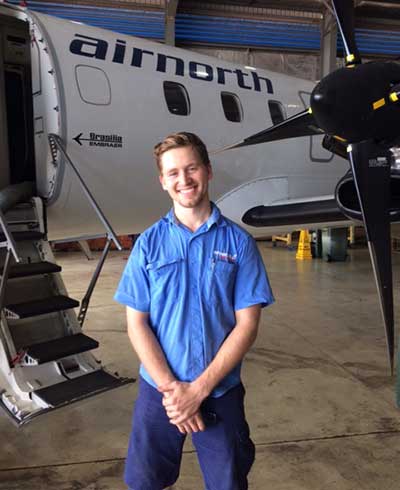 Airnorth aviation engineer Norman Foster ... 'I've always love aircraft – the technology is mindblowing'.
It's highly unlikely that Territory-born Norman Foster will ever be out of work.
He's an aviation engineer - and the world needs about 600,000 more like him.
The skills shortage in the industry means that Norman will be in ever-growing demand.
He happily works for Darwin-based Airnorth, a company that invests an enormous amount of money and effort in training Territorians to be aviation engineers.
Norman, who was recruited by Airnorth straight from school, is only 22 but has already completed his Certificate IV and diploma.
"I love my job," he says. "I like the people I work with and Airnorth is a company that looks after you.
"I've always loved aircraft. The technology is mind-blowing."
Norman trains on the job in Darwin and travels to the Aviation Australia training centre in Cairns on block release.
He was last year named Aviation Australia's Apprentice of the Year after scoring very highly in every test, including one full marks.
Much of the Airnorth training at Aviation Australia is made possible by the User Choice Apprentice funding from the Northern Territory (NT) Government's Department of Trade, Business and Innovation.
The funding falls under the Skilling Territorians initiative aims to maximise job opportunities for Territorians and build a skilled workforce.
It helps employers and businesses support the growth of the Territory economy by improving local capability.
The initiative is part of a suite of job-enhancement programs and services developed by the NT Government.
Two key focus areas are Aboriginal employment, and apprenticeships and traineeships.
Norman's immediate boss, general manager of engineering Mark Dunn, says Airnorth is committed to a grow-our-own policy for training aviation engineers.
"We take about two apprentices a year," he says. "I always look for keen kids just coming out of school."
Aviation Australia has 43 apprentices in the Territory.
Company business manager Chris Pigott says working with the Department of Education and Department of Trade, Business and Innovation departments is a pleasure.
"They are very professional," he says.
Airnorth, the major aviation operator in northern Australia, has more than 300 scheduled and charter departures a week servicing over 20 destinations, including East Timor.
It carries more than 300,000 passengers a year.
Airnorth directly employs more than 200 staff in Darwin and provides indirect employment through the contracting of ground service operations across all its destinations.
For more information about Skilling Territorians go to skillingterritorians.nt.gov.au

Last updated: 09 April 2019