Business bulletin - 22 November 2018
Launching into Australia's space industry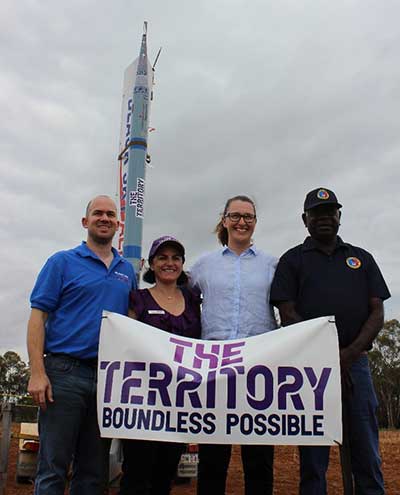 The Northern Territory (NT) Government have partnered with Black Sky Aerospace to launch Australia's first commercial sub-orbital rocket and to also support the growth of Australia's emerging space industry.
The NT has made significant inroads in developing a space industry in the Territory.
In partnership with the Gumatj Corporation Limited, and with the support of Developing East Arnhem Limited and the NT Government, Equatorial Launch Australia are progressing the development of Australia's first commercial space launch facility in Arnhem Land.
Black Sky Aerospace, who are a key customer of Equatorial Launch Australia, used this week's launch in Queensland to test new technologies and to make sure the correct processes and procedures are in place before commencing larger launches in the Territory next year.
The space industry has emerged as one of the most dynamic and fastest growing sectors of the world economy. The launch provided an opportunity to build new business relationships and promote the NT's space capabilities to a national audience.
The rocket, bearing the Territory's Boundless Possible livery will also help inspire Australian's to discover the progressive, innovative, collaborative and welcoming side of the Territory and explore the opportunities we have to share.
Along with Boundless Possible, Black Sky Aerospace also incorporated a painting by Territorian artist Dorothy Djakangu Yunupingu on the nose-cone of the rocket. The painting called Djulpan (Morning Star) tells the story of the seven sisters – the constellation of Djulpan, or Pleiades.
Djawa Yunupingu, Deputy Chair from Gumatj Corporation said he was proud to be at the launch representing the Gumatj traditional owners.
"It is exciting to see this progress after working on this project for a number of years. The Arnhem Space Centre is an exciting oppourtunity for Gumatj and it opens the doors for new opportunities for Yolngu on our country."
Klaus Helms, Chief Executive Officer from Gumatj Corporation highlighted the importance of the ongoing partnership with Equatorial Launch Australia and the NT Government.
"We are excited about our ongoing partnership with the NT Government and Equatorial Launch Australia, which sees us at the forefront of developing a new industry for our region, for the Territory and for Australia," he said.
"The launch is another milestone in this development and we look forward to seeing further progress on the Arnhem Space Centre in the new year."
Working Holiday Maker visas update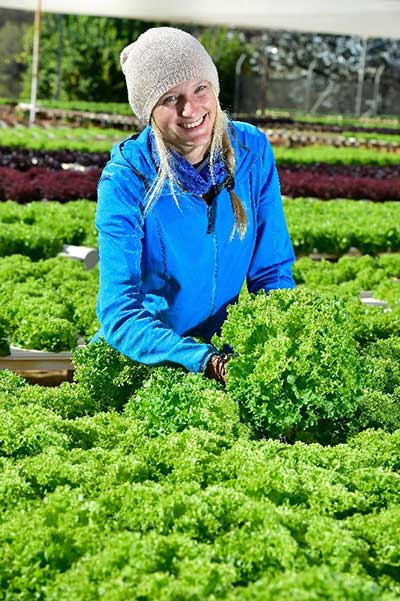 Recent changes to the Working Holiday Maker Visa mean backpackers will be able to stay in Australia for a third year and there will be more places available for a number of participating countries.
The Working Holiday Maker (WHM) program (SC 417 and SC 462) allows young travellers to have an extended holiday in Australia, supplemented by employment, in prescribed industries such as agriculture.
From July 2019, backpackers will be able to stay in Australia for up to three years, rather than two, if they complete six months of eligible regional work during their second year.
A backpacker could previously stay with the same employer for only six months. The changes mean visa holders will now be able to work for the same employer for up to one year on each visa. For businesses this means you may be able to employ a Working Holiday Maker for up to three years depending on your business activity.
The maximum age for working holiday visa applicants from Ireland will also be raised from 30 to 35, joining Canada. Similar changes are anticipated for more countries in the future.
Labour market testing
Following the introduction of new legislation on 12 August 2018, standard business sponsors are required to demonstrate they have undertaken labour market testing (LMT) and been unable to locate a suitably qualified or experienced Australian / permanent resident for their position. The LMT specifies requirements on advertising method, duration, period and contents. For more information.
Get the factsheet for NT employers:
Labour market testing: factsheet for NT employers (150.3 kb)
Labour market testing: factsheet for NT employers (166.0 kb)
For more information please contact MigrationNT on 08 8999 5264 or migration@nt.gov.au
Pacific Labour Scheme
The Australian Government announced that Timor Leste has been invited to join the Pacific Labour Scheme expanding the number of participating countries. The Scheme will provide opportunities for Timorese workers to undertake non-seasonal work in the Northern Territory for up to three years. For more information regarding the Pacific Labour Scheme and the Seasonal Worker Program, please contact Ronan Mackey on rmackey@chambernt.com.au
Big win at Australian Training Awards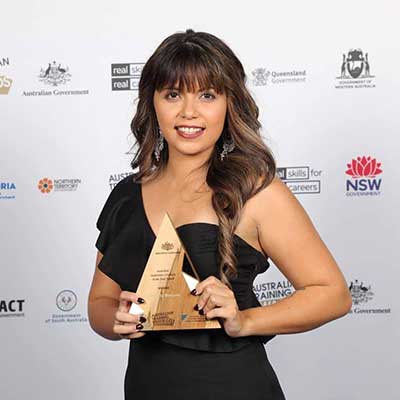 Kimberly Brewster, a Territory mother and administrative support worker for ConocoPhillips, has been named the Australian Trainee of the Year.
Kimberly provides administration support to the company's 200-strong onshore team. She has completed a Certificate III in Business Administration and is studying a Certificate IV in Business Administration.
Throughout her traineeship she was the primary carer for her two children and younger sister.
Kimberley explains that undertaking her traineeship has been a life changing experience.
"My whole life has changed since starting my traineeship. From my expectations, to the way I communicate. In the last 12 months, I have matured with the traineeship, gradually taking on additional responsibilities as my skills and knowledge developed,' she said.
"As a Gurindji female (and) mother of two under the age of 25, I am an example of what hard work and determination can lead to.
"My wish is to become an advocate and visit schools, communities and mother groups, and reach out to those students who, like me, could fall through the cracks."
The Australian Training Awards, which were held in Sydney last week are the peak national awards for the vocational education and training sector recognising individuals, businesses and registered training organisations for their contribution to skilling Australia.
The Territory had eight finalists at the event, who secured their place in the nationals after being crowned Northern Territory (NT) winners in September this year.
The NT finalists for an individual award were:
Australian Apprentice of the Year - Nathan Powell
Trainee of the Year - Kimberly Brewster
Vocational Student of the Year - Kaylee Appleyard
Aboriginal and Torres Strait Islander Student of the Year - Sonny Malmerin-Fejo
School based Apprentice of the Year - Tullalah Ormsby
VET Teacher/Trainer of the Year - Chrissy Zelley.
The two NT industry finalists were:
Medium Employer of the Year - NEC
Industry Collaboration Award - Northern Territory Police Fire and Emergency Services cadet training program.
Could this be you or someone you know? Start thinking about next year's nominations and view the NT Training Awards.
'Welcome to the Territory' business information sessions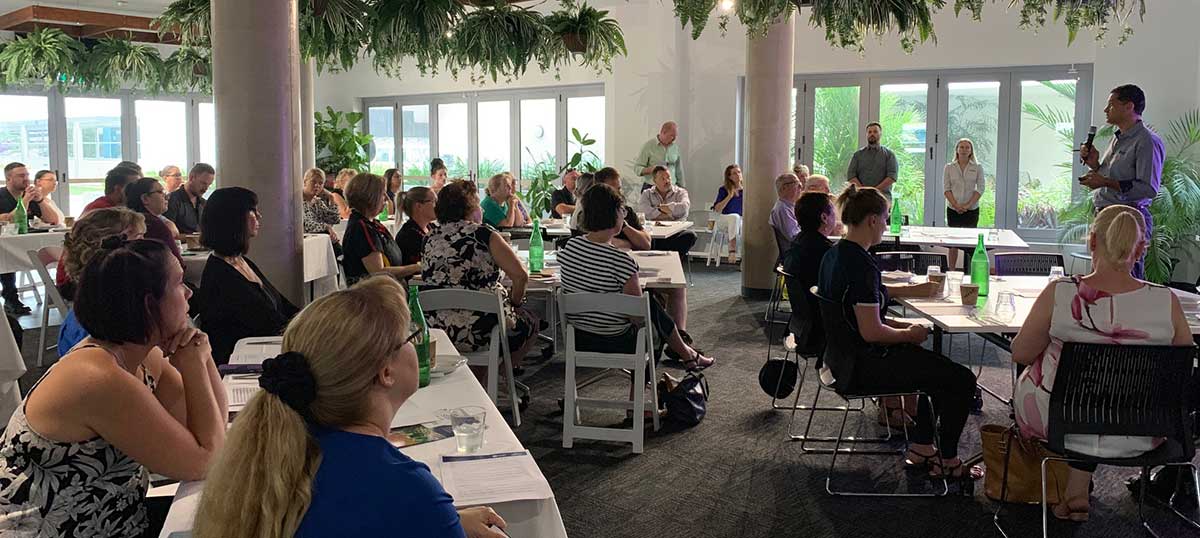 Local businesses and industry representatives are invited to find out how the 'Welcome to the Territory' incentive program can benefit them, at a series of information sessions across the Territory.
The Welcome to the Territory Incentives program is a key action of the 2018 to 2028 Northern Territory Population Growth Strategy aimed at boosting the Territory's population and helping Territory businesses to attract and retain workers in hard to fill jobs.
The information sessions will provide insights into the Northern Territory Population Strategy, what the high priority occupations are, eligibility criteria for the incentive, and how to register your business to participate.
Attendees will also find out how they can use the Boundless Possible branding and the incentives program to their advantage when promoting relevant vacancies.
The first session was held in Darwin today, public information sessions will be held in Alice Springs and then Katherine over the next two weeks. Other regional dates will be released soon.
Register:
Alice Springs - 29 November 2018
Katherine - 5 December 2018
Information session are free, however you must register to attend.
Keep up to date with the latest information via the Northern Territory Department of Trade, Business and Innovation Facebook page.
Territory business putting their best foot forward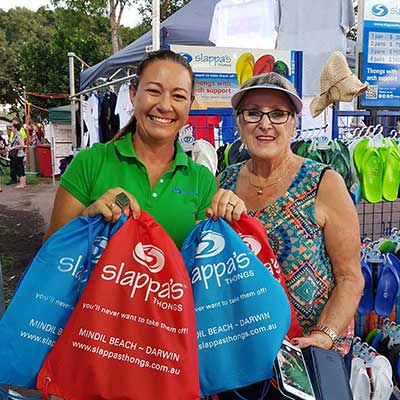 Denise Dunn is taking the humble Aussie thong to the world.
She developed her innovative arch-support, mould-to-your-feet footwear because people wanted thongs that stayed on, didn't 'flap around', had arch support, were comfortable and were good for your feet.
Slappa's Thongs was born.
The Northern Territory (NT) entrepreneur started selling the footwear at Mindil Beach Sunset Markets in 2010.
She now has more than 150 stockists nationwide, including podiatrists, physiotherapists and chiropractors, and does a roaring trade online.
Denise, who was a finalist in the NT Telstra Women's Business Awards, has just exported a consignment to New Zealand.
She is ambitious and isn't stopping there - she is on the brink of clinching a deal to export to the United States.
"Other countries will follow," she says.
The thongs are moulded, so the toe piece won't pull out like other thongs.
And they come in a range of vivid colours.
"All sorts of people buy them - from six-year-old kids to people in their seventies and even eighties," says Denise. "But they are particularly popular with women in their thirties.
"Grey nomads also love them. In fact, they are some of our best advertisers - they travel around Australia talking to lots of people and sing the praises of Slappa's Thongs.
"Customers love our thongs because they offer pain relief for people who suffer with foot problems, such as plantar fasciitis and heel spurs."
Denise was given help under the NT Government's Business Growth Program.
She used the latest grant to get guidance on employment from Darwin-based business consultant Megan Lawton of Vivid Advice.
"That consultancy enabled me to take on a member of staff, which frees me to get on with other projects.
"The Business Growth Program played an important part in growing the company.
"Being able to approach the NT Government for assistance made me confident that I was seeking advice from a trustworthy person and company."
Denise says the Business Growth Program is a good investment by the NT Government and would highly recommend it to other businesses.
If you'd like to discuss ways to improve the probability, sustainability and capability of your business contact the small business champions team on 1800 256 923.
Last updated: 09 April 2019