Business bulletin - 2 August 2018
Seafarms team up with ICN for industry briefings

Industry briefings for work associated with the $1.45 billion prawn aquaculture project, Project Sea Dragon, will kick-off this month.
Project Sea Dragon will see the development of up to 10,000 hectares of land for black tiger prawn production facilities. It is the largest of its kind in Australia.
Seafarms intends to undertake some early site works this year, prior to financial close, and will invite tenders for other significant site works to enable site inspections to take place this Dry Season ready for commencement in the Dry Season of 2019.
Initial works include:
rock crushing and stockpile (150,000m3)
internal road works for the facilities
hardstand areas for lay‐down, farm services and accommodation
seawater intake and walls for settling ponds (earthworks).
Dr Chris Mitchell, Managing Director of Seafarms is committed to maximising local participation in the project.
"This prior warning will give local businesses time to form partnerships and position themselves for the best. While the project is waiting on final investment decision, some forward works will be undertaken in the coming months to prepare for project commencement in the Dry Season next year," Dr Mitchell said.
"I encourage businesses in the north to attend the industry briefing to find out what opportunities might be available for them."
Seafarms will outline its proposed tender process, timelines and how businesses will be able to keep in touch with project opportunities.
The industry briefing will be held at 4pm on Tuesday 14 August 2018 at the Hilton Darwin, 32 Mitchel Street, Darwin and run for two hours.
To register interest, please contact Elena Tsangari of ICN on 08 8922 9422 or via email at admin@icnnt.org.au
To find out more about some of the proposed packages and submit an expression of interest against the project go to ICN Gateway website
The two-year construction period for Stage 1 at Legune Station is expected to create over 400 full-time construction jobs and 300 full-time operation jobs.
At full scale, the project has the potential to create around 1,500 jobs in northern Australia.
Outback's training success
Forty employers, trainers and individuals have been recognised for their excellence in the vocational education and training sector, being named finalists for the 2018 NT Training Awards.
The VET sector plays an integral role in the ongoing economic and social growth of the Territory by building a skilled workforce for now and into the future.
VET also provides Territorians with job ready skills and national qualifications for a diverse range of careers.
In this week's business update, catch up with NT Training Awards finalist for Medium Employer of the Year, Outback Stores.
Darwin CBD infrastructure works underway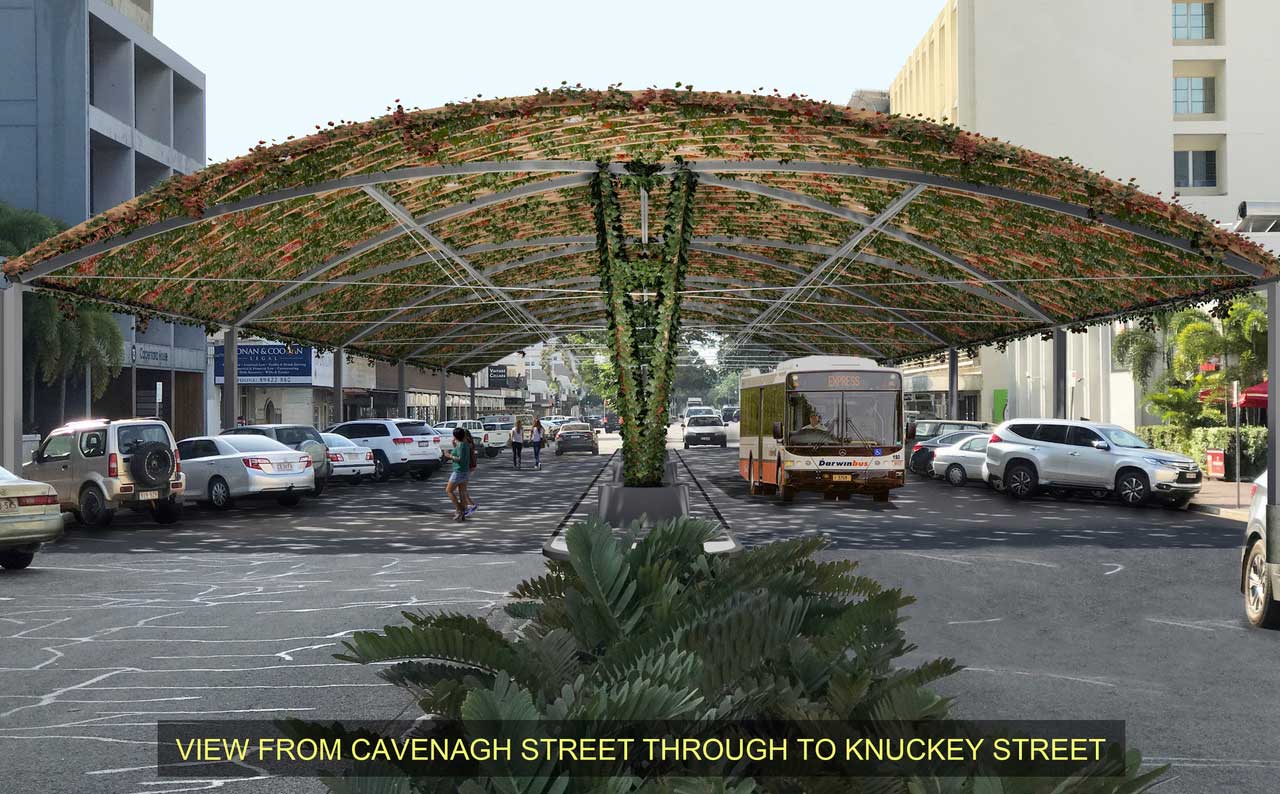 The rejuvenation of Darwin city centre is well under way.
Two major projects - the building of a 55-metre-long green canopy over the hottest stretch of Cavenagh Street and the rebuilding of Cavenagh House - have started.
The work is creating jobs and making the CBD a more attractive place to work, visit and live.
Other planned improvements include:
redesigning State Square, including putting the car park underground
more shade structures, and the planting of trees and a 'green wall' as part of the upgrade of the Cavenagh and Bennett street intersection
planter boxes for medium-size trees and garden walls for instant greenery
cool surface treatments - new technology paints to reflect UV, and alternate road mix and pavement products along Cavenagh Street
environmental monitoring - through sensors installed as part of the Switching on Darwin Smart Cities project.
Darwin company PTM Group is building the $2.7 million Cavenagh Street shade structure as part of the Northern Territory (NT) Government's $100 million plan to revitalise the CBD.
The job will take 21 weeks and create work for local subcontractors, most of them family-owned businesses.
The canopy will be a large-scale pergola using stringybark timber supplied by the Gumatj Corporation with two species of vines creating shade and cooling the street.
Cavenagh House is being demolished and replaced by a 'green' nine-storey office tower.
The striking new building - which will become the new administrative headquarters for the Department of Health with 660 NT Government staff - will create 250 construction jobs.
Sandran, the company that owns the building is investing $75 million in the project, says the new-look Cavenagh House will inspire surrounding businesses to carry out upgrades, helping improve the whole CBD.
Other parts of the project include greening the exterior of Energy House and improving the building's façade; building a childcare centre on the ground floor of Energy House; making a capital contribution to the City of Darwin to upgrade and green Litchfield Street; and building a 320-bay, $12 million public car park in Litchfield Street.
Sandran has committed to using 95% Territory contractors and suppliers, and car park and childcare centre will be locally managed and operated.
Construction is expected to be completed by 2021.
Custom Cabinets build their future with Defence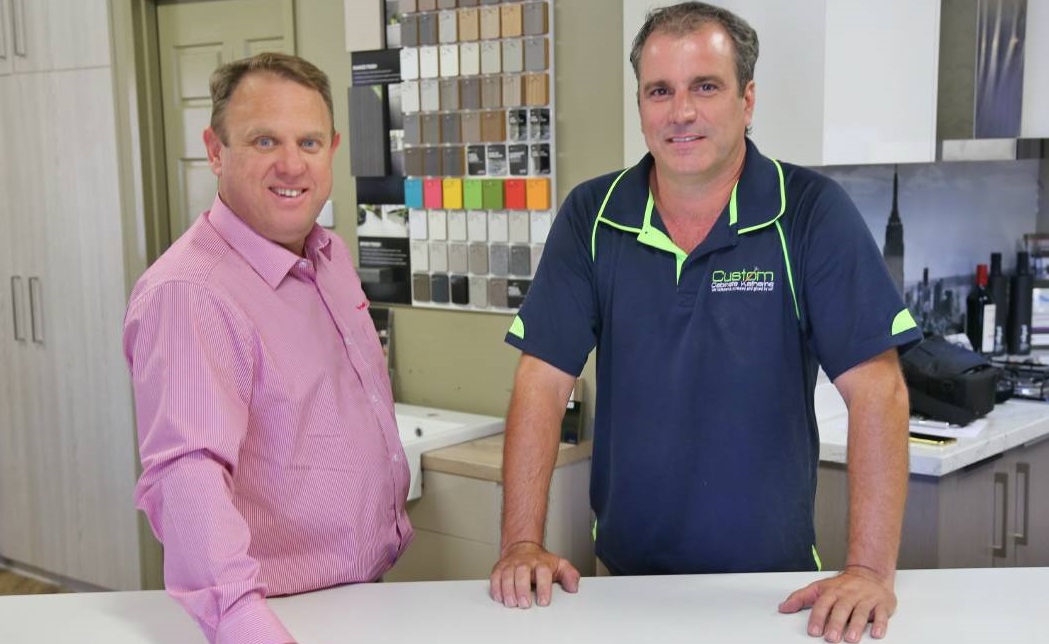 Katherine businesses are winning lucrative contracts from the $470 million upgrade of the Tindal RAAF Base.
Australian construction company, Lendlease, has so far awarded $145 million worth of subcontracts to Northern Territory firms.
Four Katherine companies have won work packages.
One of the successful tenderers, Custom Cabinets, has fitted out the new control tower at Tindal.
"That was very interesting," says Jeff Usher, who owns the company with his wife Melanie. "The control tower was a cool place to work."
Custom Cabinets is now doing the joinery work - everything from lockers to kitchenettes - for the New Air Combat Capability complex.
The work has allowed him to increase staff from five to seven and use local subcontractors.
Mr Usher says Lendlease has been enormously helpful.
He was stunned - and delighted - when chief executive officer (building) Dale Connor took the time to travel from the Lendlease HQ in Sydney to Katherine, to personally hand him the contract.
Mr Connor says the upgrade of Tindal in preparation for the arrival of a Joint Strike Fighter squadron will take a further four years, which means there will be plenty more opportunities for NT firms to win work packages.
"Anyone who feels they are missing out still has an opportunity and we will help them," he says.
Mr Connor says Territory companies should not consider themselves too small to win work on the RAAF project.
Lendlease has 35 staff living in Katherine and hundreds more contractors either living in the base workcamp or in the town.
The workforce at Tindal is expected to peak at 250 early next year.
"We are committed to providing opportunities to Katherine," says Mr Connor.
The Australian Government has bought 72 F-35A Lightning II aircraft, also called the Joint Strike Fighter.
Total cost of the planes and infrastructure is more than $12 billion.
Trusty Glass - people's choice for best business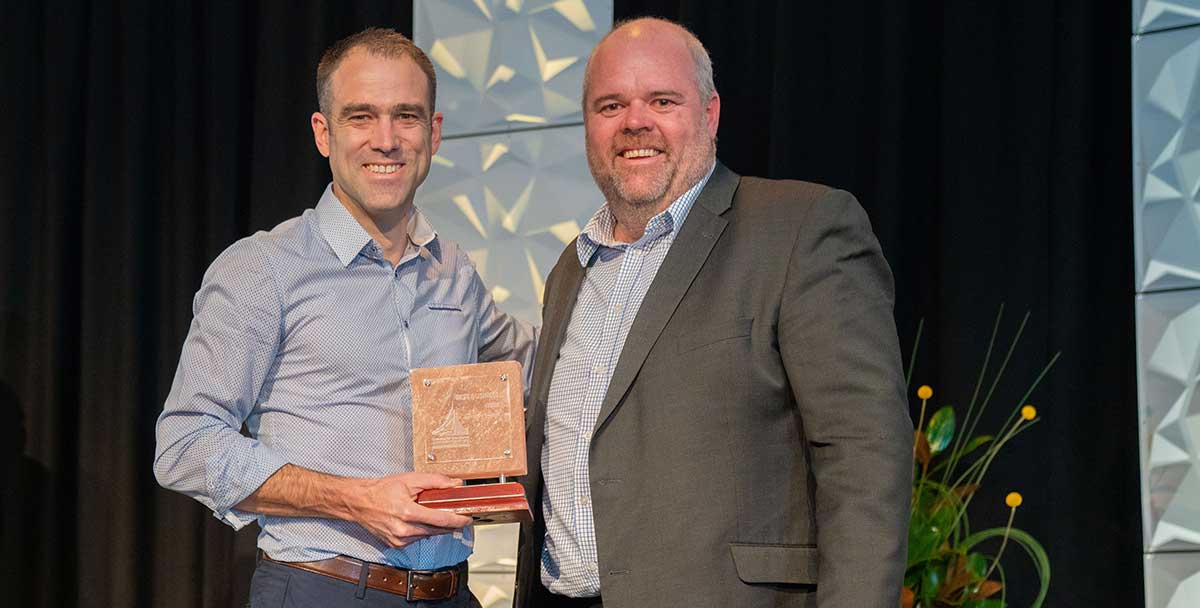 Mr Christopher Hatzimihail from Trusty Glass being presented the Best Business Award by Mr Scott Lovett.
Central Australia's most 'Trusty' business has come out on top at the Alice Springs Customer Service Awards.
Trusty Glass, who specialise in automotive glass repairs but also repair and replace windows for homes and offices, were recognised for their outstanding customer service winning the Best Business Award at last month's awards gala dinner.
The Customer Service Awards, run by the Chamber of Commerce, recognise the hard work of individuals and businesses who go above and beyond in their customer service delivery.
The winners of the awards are chosen by the public and this year more than 200 quality nominations were submitted across four categories.
Trusty Glass Managing Director, Christopher Hatzimihail, said it was great to see people take the time and provide positive feedback on the services Trusty Glass offer.
"Receiving some appreciation for how hard all of us work every day to exceed customer expectations is by far the most rewarding recognition I have ever received," Mr Hatzimihail said.
The business, which has operated in Alice Springs since 1979, has developed a loyal customer base by providing a fast and efficient service and ensuring customers always leave with a smile.
"Word of mouth advertising…is the most effective advertising I can have as a small business. Taking extra good care of a customer, and having them spread the word of how great we are to their family and friends, is the best part about providing a great customer experience".
Winners of the other award categories include:
Best Individual - Kerry Noll
Best Emerging Business - House of Tallulah
Best Aboriginal Business - Kungka's Can Cook.
A special mention also went to Alice Springs Cinema.
Last updated: 09 April 2019