Business bulletin - 16 August 2018
VET can open up a world of possibilities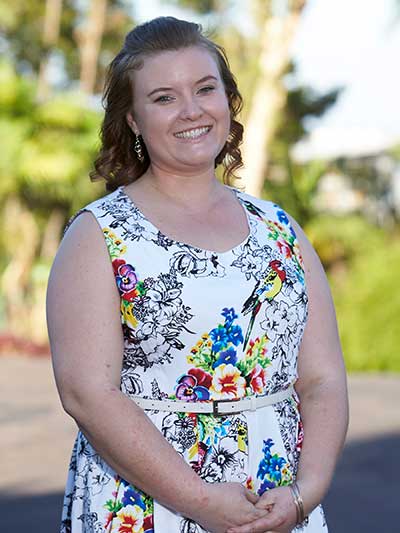 Kacie Anderson is among a select few female fabricators and boilermakers in Australia. These days, more and more women are entering traditional trades.
"It's still very much a bloke's job" says Kacie, but adds that "lots of women are becoming Tradies nowadays and I say to them, give it a go."
Kacie, 24, has been nominated for this year's Northern Territory (NT) Training Awards and is a finalist for the Austin Asche Apprentice of the Year Award. She has just completed a Certificate III in engineering and heavy fabrication.
The NT Training Awards are organised by the Department of Trade, Business and Innovation and are open to Territory businesses, organisations or individuals with outstanding achievements in the vocational education and training (VET) sector.
The prestigious NT Training Awards have been running for over 60 years and celebrate successes in the Territory VET sector. Excellence in training leads to a stronger economy centred on knowledge, innovation and ultimately an improved global competitiveness.
Winners of the 2018 NT Training Awards will be announced at the gala dinner on 22 September 2018 at the Darwin Convention Centre. Tickets will include live entertainment, a three course meal and beverages.
For more information about the NT Training Awards view NT Training Awards.
Tickets on sale 17 August 2018.
Incentives to start.run.grow your business

The Northern Territory Government supports Territory businesses to start.run.grow.
Grants, programs and assistance are available to help your business at every stage.
If you're starting a business, the Territory Business Centres (TBC) provide an initial contact point, providing information on business requirements such as licences and permits and referrals to assist with getting your business off the ground.
TBC's are located throughout the Territory in Alice Springs, Tennant Creek, Katherine and Darwin.
The Business Growth range of programs can assist businesses adopt continuous improvement strategies. This includes financial assistance to engage qualified consultants to tailor approaches to meet individual business needs.
Fran and Scott Baily from Hairdressing and Beauty Supplies, Darwin, received assistance under the Business Growth Program to develop and set up an online presence for their business. "We set up a webpage because we felt we were losing out on some business with the Territory being such a vast area" they said.
Fran and Scott recommend other business owners talk to a Small Business Champion to find out about programs that can be tailored to assist them.
Smarter Business Solutions Program provides assistance in reducing costs by adopting efficient energy, waste and water technologies and practices.
A grant under the Smarter Business Solutions (SBS) scheme enabled the Desert Fruit Company, 65 kilometres from Alice Springs, to switch their bore from diesel to solar power, to pump water creating savings of approximately $13,000 per year.
Company manager Ben Wall explained: "We have always wanted to convert our water pumping systems to solar but had to put it off due to financial considerations…it became essential if we wanted to be able to keep our farm viable and grow into the future."
Mr Wall said the switch would not have been possible without the SBS grant.
To further assist your business, the Department of Trade, Business and Innovation offers a local network of small business champions, workforce training coordinators and economic development officers across the Territory.
To view all of the start.run.grow programs, grants and assistance available to Territory businesses go to the startrungrow website
Celebrating 50 years - Australian Pipeline and Gas Association

The Australian Pipeline and Gas Association (APGA) will celebrate its 50th birthday at its 2018 Annual Convention and Exhibition at the Darwin Convention Centre from 8 to 11 September 2018.
Pipeliners from around Australia and overseas will gather in Darwin to attend the four‐day Convention, which is the most significant annual gathering of the pipeline industry. This year's activities and papers will expand upon the theme of Australia's Pipelines: 50 years of safe and reliable delivery of energy and water.
For the past 50 years, the convention has provided a wealth of opportunities for participants to hear about the latest technological developments and share information on projects both at home and abroad.
The exhibition runs across the full four days of the event, and features exhibitors from all sectors of the pipeline industry, as well as industries that are associated with natural gas and the transportation of energy and water.
To learn more or to register to attend go to the APGA Convention website
2018 Skills, Employment and Careers Expo kicks off

The Skills Employment and Careers Expo is held NT-wide, and kicked-off for 2018 in Alice Springs on 13 August 2018. The Expo is now travelling to Tennant Creek, Katherine and Nhulunbuy, before ending in Darwin on 25 August 2018.
Liz Reid, Executive Officer of YouthWorx NT, the company staging this year's expo, said the first day in Alice Springs was a huge success. "Alice Springs had an electrifying atmosphere with more than 900 young people from schools across Central Australia and members of the local community attending today's event."
"The expo was packed with eager and absorbing minds of the endless opportunities for further study in vocational education and training or tertiary education, enthusiastic exhibitors...employment providers and NT Government departments giving sound career advice."
Jon Raveney, Careers Advisor at Our Lady of the Sacred Heart Catholic College said "today's expo in Alice Springs has been the best ever. It gets better every year - our students were able to get so much important information."
The expo is a one-stop-shop for anyone seeking to explore higher education, vocational education, training pathways and career options.
It's also the perfect opportunity for employers to engage with future employees, hand-pick the best talent and showcase what they have to offer.
The digital jobs board is back again this year at the Darwin and Alice Springs expos. Job seekers can view the job listings at the expo on their smart phones and other devices to apply for positions on the day.
Another highlight is the Try'a Skill event which gives people the opportunity to try their hand at various skills and trades. As Liz Reid explained "the hands-on interactive activities were an absolute winner that included hand massages, hairdressing, plumbing, welding, robotics and hospitality opportunities."
More than 6,000 Territorians attended the Skills, Employment and Careers (SEC) Expos across the Territory in 2017, with thousands expected to turn out again this year.
The SEC Expo is ideal for anyone interested in starting, changing, re-skilling or upgrading their career. All events are free.
For more information please view Skills, Employment and Careers Expo.
Reaching South to showcase the Northern Territory

The Northern Territory (NT) Government, in conjunction with the Darwin Major Business Group (DMBG), will showcase the NT in Shenzhen, China, later this month.
The event, Reaching South to the Territory, Australia, is the largest NT Government and business delegation to travel to China to date.
The event will present a unique opportunity for Territory businesses and organisations to connect with key business people and decision-makers in the region, and will provide opportunities to network and develop long-term relationships with Chinese counterparts.
Shenzhen, once a fishing village of 30,000 people, was designated China's first Special Economic Zone in 1980.
Shenzhen now has a population of approximately 20 million, is the headquarters of many multinational companies and is one of the world's fastest growing cities. It boasts a modern cityscape, with attractive green belts and a vibrant economy made possible by rapid foreign investment.
Reaching South will begin with a business dinner hosted by the Chief Minister of the NT on Thursday 30 August 2018, followed by a trade and investment session on Friday 31 August 2018.
The event is being jointly facilitated by the NT Government through the Department of Trade, Business and Innovation and DMBG to help leverage the myriad of commercial opportunities presented by improved links between Shenzhen and the Territory.
Territory businesses have been selected to attend through an expression of interest process, with all parties advised of the outcome of their application in early August.
Last updated: 09 April 2019