Business bulletin - 13 September 2018
The countdown to October Business Month is on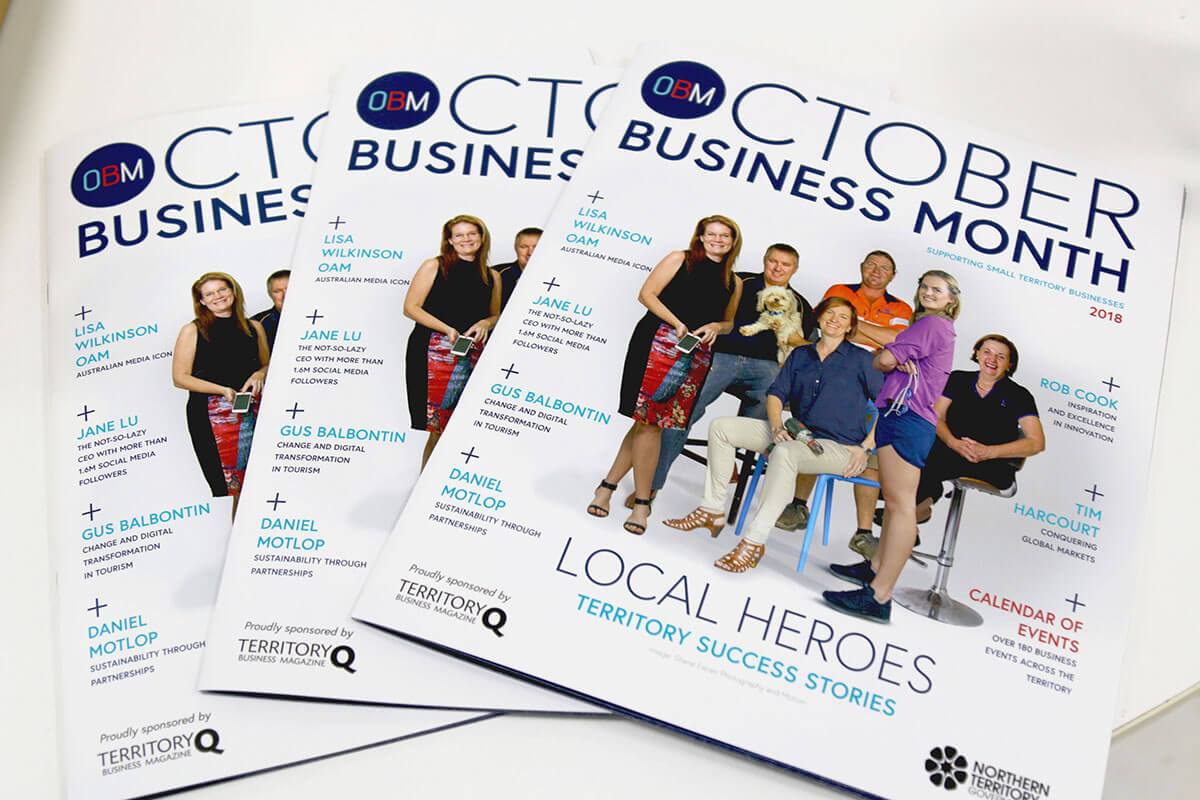 Over 190 events, workshops and training options will be on offer during October Business Month (OBM) to support Territory businesses grow their enterprise.
With a focus on innovation, social media, marketing and leadership, OBM is designed to inspire and develop Territory businesses.
Innovation Week will unlock innovative thinking by celebrating and growing our entrepreneurial talent, with topics including renewable energy, digital disruption, intellectual property and idea pitching.
The International Series, which runs throughout the OBM program, focuses on improving the Territory's connection to and understanding of Asian markets, exploring ways to improve business environments, cultural awareness and doing business internationally.
OBM culminates with the Social Media Sprint featuring speakers from Facebook, LinkedIn and local agencies. More than 30 events are dedicated to social media this year, to help local businesses navigate and succeed in a digital world.
There is also a stellar line up of keynote speakers, including:
Lisa Wilkinson - journalist and host of Channel 10, The Project
Jane Lu - entrepreneur, social media influencer owner of global fashion empire Showpo
Gus BalBontin - former executive director and chief technology officer at Lonely Planet
Daniel Motlop - former AFL player and general manager of Aboriginal owned supplier of game meats and native food, Something Wild
Rob Cook - bestselling author and Australian Farmer of the Year Award winner
Tim Harcourt - professional economist specialising in international trade and labour economic issues in the Asia Pacific region and emerging economies.
Five Territory success stories will also join our keynotes this year, each bringing their own local story to inspire the business community.
The OBM Hub is located in the Voyage Arcade, Smith Street Mall, Darwin, until 31 October. The Hub will be open from 10am to 2pm Monday to Friday.
Pop in and visit the OBM team to register for events or pick up our new look OBM calendar.
For a full list of OBM events go to the OBM website.
October Business Month would not be possible without the support of our sponsors and event hosts.
Flying high with NT Airports expansion
A $300 million expansion of airport facilities in Darwin, Tennant Creek and Alice Springs is expected to create up to 1,500 jobs and support the development of the Territory's export potential.
Last week it was announced the project is set to benefit from a $150 million loan from the Northern Australia Infrastructure Facility (NAIF), which will help Northern Territory Airports Ltd upgrade storage and energy infrastructure at the three airports.
The upgrades include:
construction of cold storage and an export hub at Darwin International Airport (DIA)
construction of solar energy farms at DIA, Alice Springs and Tennant Creek airports and an off-site multi-user battery to be located 80km from Darwin, and
resurfacing of Alice Springs airport's runway, taxiways and apron and installation of new runway lighting.
These investments will increase the operational capacity of each airport and in doing so, increase economic opportunities for each community. It will also drive new export opportunities into Asian markets and boost the Territory's tourism potential.
Up to 1,000 jobs are expected to be generated through the construction phase. In turn, those positions will support around 500 indirect jobs through the supply chain, and create more than 140 new ongoing positions.
Airport Development Group CEO Ian Kew said they were looking forward to working with the government to expand export potential in the Territory.
"This investment will grow our reputation and capacity to attract bigger planes to carry more tourists and more of our region's iconic products such as mud crabs, barramundi, mangoes and melons to the world," Mr Kew said.
"These can be processed through the new VHT plant and stored in the new cold storage facility before being air freighted straight out of Darwin, rather than being trucked to Queensland."
NAIF CEO Laurie Walker said the project would be NAIF's largest investment to date.
"We are very pleased to promote the significant public benefit that will be delivered for the Northern Territory through this project."
This is NAIF's second investment in the Territory. Earlier this year a loan of $7.18 million was invested into Humpty Doo Barramundi to support stage one of a three stage infrastructure project; funding will go towards a solar farm, a fish nursery and new processing equipment.
To find out more go to the Australian Government's Northern Australia Infrastructure Facility website.
Industry networking event proves fruitful
Several Territory service and supply businesses have made significant inroads and secured new work following the Meet the Buyers networking event in Darwin.
The Meet the Buyers event kicked off NT Resources Week, bringing together operators and contractors across the energy sector to learn more about the Territory's service and supply capacity. The event saw local small and medium businesses meet face to face with operators and tier one contractors in an intense business speed networking event.
Chief Executive Officer of the Energy Club NT, Sonia Harvey said there have been great outcomes from the event with several businesses already engaged for new work.
"We had two Territory businesses report that they will generate revenue this week from direct leads, and a further three Territory businesses advise they have a new opportunity to quote from direct event leads," she said.
"Understanding opportunities, presenting a strong capability and focusing on building strong relationships as major projects progress, will assist SMEs to develop a strategy for long term growth and success."
"As part of our plan to support NT local content, Energy Club NT will continue to provide valuable engagement opportunities for Territory businesses."
Now in its third year, the Meet the Buyers event continues to grow. Last week's event drew a record attendance with 561 face-to-face meetings held in less than two hours.
The business speed networking event profiled 33 Territory businesses and 27 buyer teams, and included 120 attendees.
The Meet the Buyers event is sponsored by Shell, National Energy Resources Australia and the Department of Trade, Business and Innovation.
NT Resources Week wrap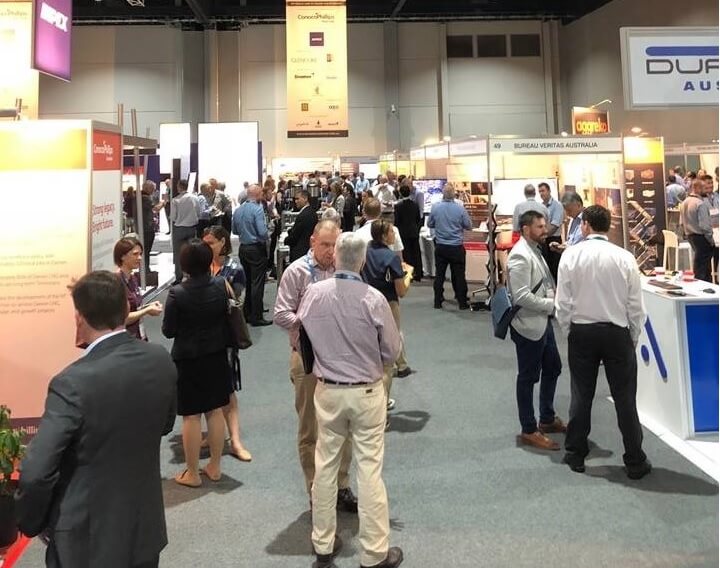 Leading industry figures from across the resources and construction sectors converged on Darwin last week to discuss latest developments in Northern Australia and South East Asia.
More than 880 local, national and international delegates and 65 exhibitors attended NT Resources week, which brings together three conferences in one: the South East Asia Australia Offshore and Onshore Conference (SEAAOC), Mining the Territory and Building the Territory.
Kevin Fong, Director of Strategic Oil and Gas Industry Development from the Department of Trade, Business and Innovation explained:
"The week provides fantastic opportunities for industry to network, receive project updates and experience first-hand what is happening in the Territory."
He added "Discussions with local industry also revealed their enthusiasm for the conference, particularly the face-to-face contacts they were able to have with various oil and gas companies."
Among the presenters at this year's conference was Mr Paul Tyrrell, Chair of the Gas Taskforce, who provided further details on the government's Gas Strategy.
The strategy will drive the governments vision for the Territory as a world class hub for gas production, manufacturing and services by 2030.
The strategy includes the following:
expand Darwin's LNG Export Hub
grow the service and supply industry
establish a sustainable gas based processing and manufacturing industry
grow research, innovation and training capacity, and
contribute to national energy security.
For more information about the Oil and Gas strategy email gasdevelopment@nt.gov.au
Creating jobs in the Territory
Mineral exploration expenditure increased by 43% during the 2017/18 financial year, with the Northern Territory Government's Resourcing the Territory initiative encouraging further exploration.
Under this new initiative, one of the largest scale geophysical surveys ever undertaken in the Territory is now underway in the Tanami desert. The Geophysics and Drilling Collaboration grants program has been renewed and upgraded and received a record number of applications.
"Recent engagement with the resources explorers at NT Resources Week showed how positively the new Resourcing the Territory initiative has been received by industry" reported Dorothy Close, A/Executive Director for Northern Territory Geological Survey.
As one of the biggest investments from the Northern Territory Government, the Resourcing the Territory initiative supports resource exploration and commits to growing and diversifying the resources sector, providing more jobs in regional areas.
Last updated: 09 April 2019