Business bulletin - 12 April 2018
Business update: Northern Territory Defence and National Security Advocate
With $20 billion in Defence infrastructure investment planned for the Northern Territory over the next 20 years and opportunities in services, support and maintenance it is an exciting time to be in the Defence industry.
The Northern Territory Defence and National Security Advocate, Air Vice-Marshal (Retired) Margaret Staib was in Darwin to provide an update to local business and industry about key activities being undertaken and upcoming opportunities.
Find out more in our latest business update.
NT set to host ICEF-ANZA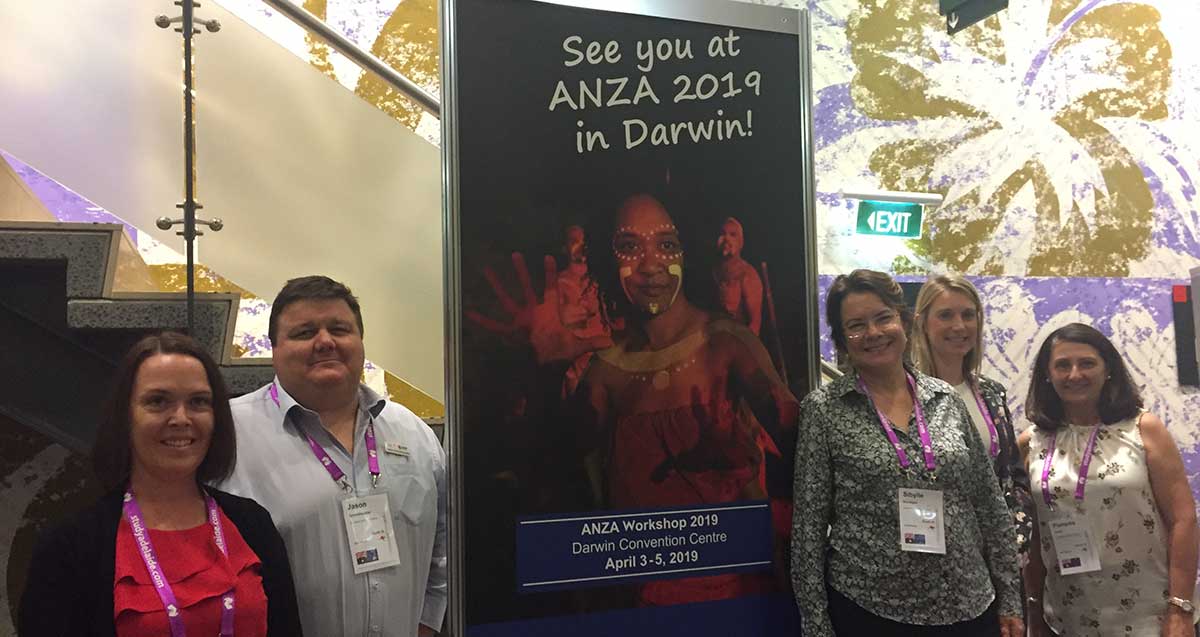 The Top End will play host to the one of the region's largest events for education, work, youth and student travel in 2019.
Sibylle Brautigam, Deputy Chief Executive of the Department of Trade, Business and Innovation said the International Consultants for Education and Fairs – Australia New Zealand Agents (ICEF-ANZA) workshop is the key business to business trade fair for the sector, connecting international education provider's recruitment agents, work and travel professionals, and service providers.
"Hosting next year's event is a great opportunity to promote the Northern Territory as a study and study tour destination and initiate potential commercial opportunities for education providers and local businesses," Ms Brautigam said.
There are more than 2,400 international students from over 68 different nationalities currently studying in the Northern Territory and international education and training contributed $88 million to the Northern Territory economy in 2016-2017.
Following last week's 2018 ICEF-ANZA workshop in New Zealand a joint familiarisation tour for recruitment agents is now underway, hosted by the South Australia and Northern Territory governments as part of the SA/NT Strategic Partnership Agreement.
Agents from Australia, Nepal, Vietnam, Brazil, Colombia, Japan and Nigeria will tour educational facilities in Adelaide and Darwin.
The familiarisation tours supports the collaboration of joint international trade missions and furthering the promotion of international education.
The 2019 ICEF-ANZA workshop will be held at the Darwin Convention Centre.
Tourism app showcasing NT to the world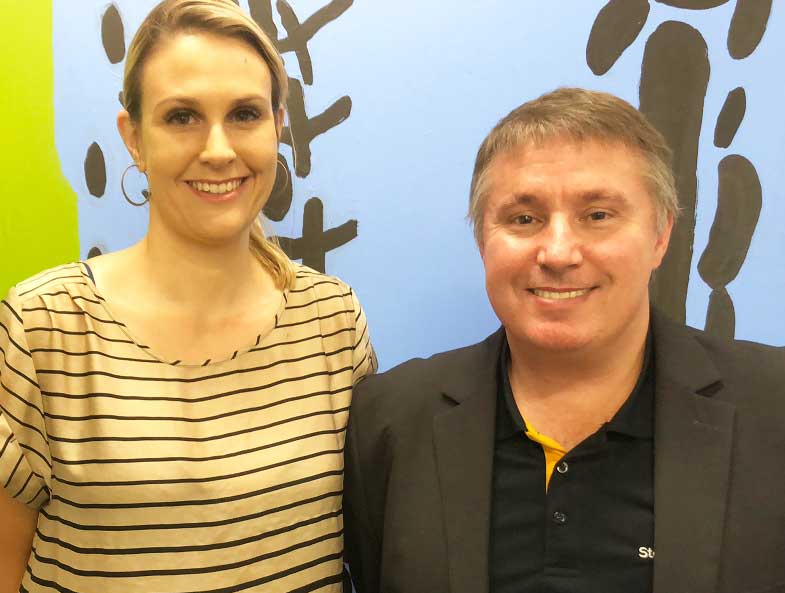 John Mackenzie and business partner Shauna Mounsey want to put Darwin on the world stage.
Their company, JCTK Investments, has developed a tourism app called ExplorAR360, which they believe will take off across the globe.
The immersive app integrates augmented reality and 360 degree virtual reality with online travel booking systems to bring together hoteliers, tour operators, restaurants, retailers and places of interest.
"It's a one-stop shop for all your travel needs," says Ms Mounsey. "Users can do everything from book a flight to hire a car to find an authentic tour."
Mr MacKenzie says ExplorAR360 will allow travellers to find, book and pay for all their travel needs in a central location and will integrate with existing travel apps, such as AirBnB and Skyscanner.
He has just returned from a five-week networking and fact-finding mission to America, where he visited the headquarters of corporations such as Uber, Twitter, AirBnB, Facebook and Google.
"It was the best five weeks of my life," he says. "I was inspired and have come home with so many ideas."
The two Darwin-based entrepreneurs say they were prompted to develop ExplorAR360 because the Territory's tourism industry is in need of help.
"Of course, we expect to make a profit from the app, but our primary motivation was to find an innovative way to revive our tourism sector," says Ms Mounsey.
The app will be rolled out in Australia and Indonesia at first.
JCTK Investments was awarded a $60,000 grant under the Business Innovation Support Initiatives (BISI) program to develop the app.
The BISI program, which is managed by the Northern Territory Government's Department of Trade, Business and Innovation, provides vouchers and grants to innovators.
Grants of up to $60,000 are awarded in rounds - round 5 is open until 18 April 2018 - and vouchers up to 60% for eligible projects with a maximum of $25,000 all year round.
Mr Mackenzie is a strong supporter of the BISI program.
"It's far more important than most people realise," he says. "It helps drive innovation.
"The Territory has always been innovative and I believe Darwin can become one of the greatest small city innovation hubs in the world."
To find out more about the BISI program or to apply go to nt.gov.au/bisi
Alice Springs business reaching new heights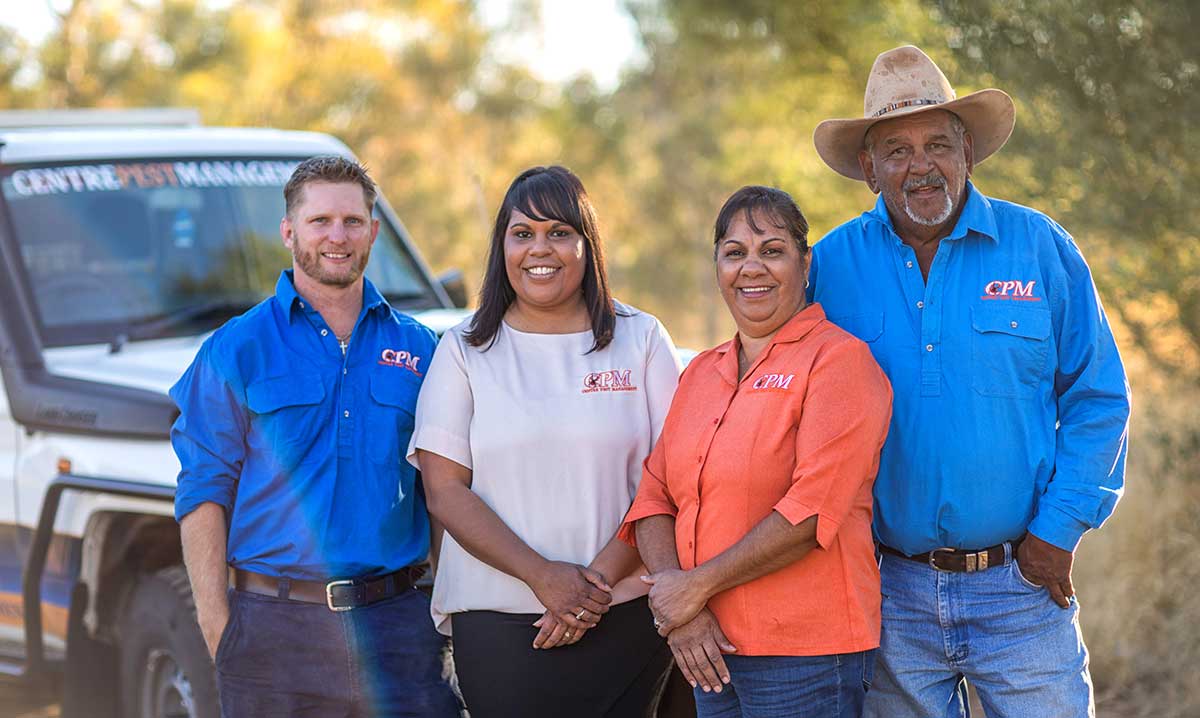 A decision to fly the 1,500kms north to Darwin for the Indigenous Economic Development Forum last year is paying off for an Alice Springs-based pest control company.
Centre Pest Management owners Rachel and Stephen Ellis found the conference beneficial in two important ways: it allowed them to network with potential customers and draw great confidence from realising there are many successful Aboriginal-owned companies in the Northern Territory.
The two-day forum was organised by the NT Government's Department of Trade, Business and Innovation.
"It was well worth the effort," says Rachel. "We got so much out of it."
Centre Pest Management has thrived since the forum and is now getting work at a steady rate.
"We get work mostly through word of mouth - one satisfied customer recommending us to someone else."
Being local also helps.
"I was born and bred in the Alice," says Rachel. "And my people are from Central Australia.
"People know us and trust us. But Alice Springs is like that - standing by each other."
Centre Pest Management wins a mix of work from homeowners and businesses and organisations in Alice, regional centres and remote communities.
Son-in-law Tim Gibbons and qualified technicians carry out the contracts and travel as far north as Katherine, west to the Western Australia border, south to the South Australian border and east to the Queensland border.
Their 'workplace' is bigger than many countries.
"We're not frightened of going bush," says Rachel. "We're getting an increasing amount of work from regional towns and communities."
Centre Pest Management goes to war mainly on cockroaches, spiders, ants and mice.
Tim and our other technicians are also qualified to tackle termites.
"You can't just go out and start spraying," says Rachel. "You need to have all the proper certificates."
Rachel was one of four ambassadors for the 8th Indigenous Economic Development Forum, which is recognised as one of the largest Aboriginal economic development events in Australia.
It provides a platform to enhance discussions held between Aboriginal businesses and other stakeholders.
Last year's event focussed on building on Aboriginal involvement with the developing Northern Australia agenda and providing opportunities for Aboriginal companies to establish connections with other businesses.
The forum included a business expo, which gave companies the opportunity to showcase their products and capabilities.
The next Indigenous Economic Development Forum will be held in 2019.
Training pathways in the Barkly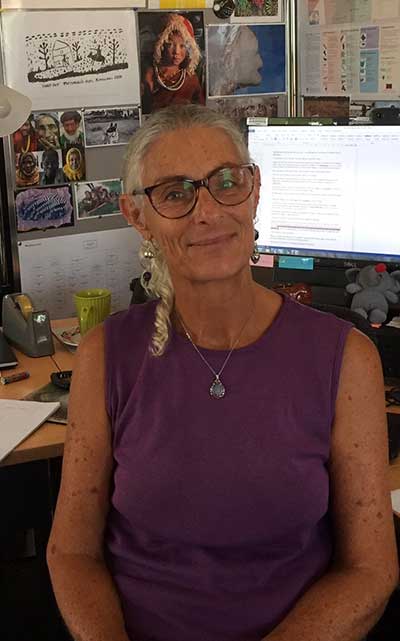 Workforce Training Coordinator Meg McGrath is passionate about her job - even though her 'workshop' is 384,000 square kilometres.
"I absolutely love it," she says. "I've got the best job in the world."
Meg is the Northern Territory Government's Workforce Training Coordinator for the Barkly Region, which means she travels vast distances across the Outback, from Tennant Creek to Robinson River, from Alpurrurulam to the Devonport Ranges - and everywhere in between.
Her core role is to link organisations and businesses with training opportunities.
"We don't run training courses ourselves. We act as a facilitator."
Meg, who works for the Department of Trade, Business and Innovation, enjoys great job satisfaction, especially after seeing her work pay off in good training and real jobs for Territorians.
For instance, she has supported training that has led to an Aboriginal corporation winning road maintenance contracts at Canteen Creek.
"Local people are now doing the jobs - people from outside the community used to be brought in."
A key part of Meg's role is to assist businesses and community based organisations to access training to support their workforce requirements.
"I love the work because of the combination of getting to know people living in regional communities and then supporting their aspirations to take advantage of employment or income-generation opportunities.
"I particularly enjoy getting training to the people who need it rather than the people to the training. This makes a huge difference.
"Of course, training in remote communities is a logistical challenge."
Meg particularly likes the fact that she can support Aboriginal adults through both accredited and non-accredited training. It is often the non-industry specific support, such as numeracy and literacy which can enable them to not only gain fulfilling employment but retain the job.
Meg can link clients to other programs with the department's suite of programs which include traineeships and apprenticeships, upskilling initiatives and other certificate level training which is delivered a range of training organisations.
"Job retention is very important."
Meg is a teacher by profession and moved to Tennant Creek 20 years ago to work with the Batchelor Institute as a numeracy and literacy trainer.
She has been a workforce training coordinator for 14 years.
"That length of service shows much I love the job."
If you'd like to discuss training options for your business or organisation you can contact Meg on (08) 8962 4674.

Last updated: 09 April 2019