Innovator in Residence program
The Innovator in Residence (IiR) program aims to provide proactive mentoring and support to small-medium enterprises in the Northern Territory (NT).
The program aims to increase the survival rate of small businesses, help commercialise research and development, create and retain jobs in the NT, improve the local economy, and increase opportunities for partnerships between the public and private sector.
For entrepreneurs, the IiR program is a business diagnostic that brings a unique opportunity to work with an expert, accelerating the business performance and the commercialisation potential.
The IiR program can support your business by introducing you to:
investors with access to finance
knowledge partners and universities across Australia and internationally
intellectual property (IP) experts and key IP lawyers
Australian and international business networks.
The IiR program can also assist with Business Innovation Support Initiatives funding applications, for more information go to www.nt.gov.au/BISI
Innovator in Residence, Helen Ujvary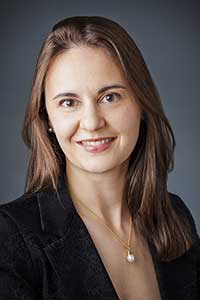 Helen Ujvary is our Innovator in Residence and the Australian Representative of Oxentia Ltd (formerly the international management consulting division of Oxford University Innovation) and the managing director of Agilis Consulting Pty Ltd.
Since 2004, Oxentia has delivered services to a worldwide customer base of public and private sector clients in over 60 countries, and is a key part of Oxford's Innovation Ecosystem.
Helen is also consulting for the National Institute of Health Research, funded by the United Kingdom (UK) Department of Health and Social Care, to help find global disruptive technologies to address UK health and social care priorities.
Previously, Helen was the Australian Representative for Ferghana Partners, a UK and United States based investment bank that focused on the bioscience sector.
In 2007, Helen became a dual finalist for the Telstra Business Women's Awards in South Australia.
With a strong background in assisting technology companies find international partners and investors, Helen holds a Masters in Biotechnology from Canterbury University in Kent, a Masters in Chemical Engineering from Oxford University, a Diploma from the Australian Institute of Company Directors and an MBA from Adelaide University.
Who is eligible?
The IiR program is open to anyone who has an innovative idea. The Innovator in Residence can help you at any stage of your project, whether it is at a concept stage or ready to enter commercialisation.
How to book an appointment?
The Innovator in Residence holds one-on-one sessions each month. For further information or to book an appointment, please contact us today:
Department of Trade, Business and Innovation
Business and Innovation NT
Phone: 08 8999 6643
innovation@nt.gov.au
Program feedback
Have you recently met with the Innovator in Residence and would like to provide feedback? Your feedback is vital in continuing to evolve and strengthen the program and is therefore greatly appreciated.
Please complete the online survey.
Testimonials
"Thanks so much for another quality introduction. The range of personnel that you have been introducing us to demonstrates how well you have interpreted our requirements and taken the time to ensure that we have plenty of options moving forward with the next stage of our business. It's always a pleasure catching up with you and I hope that we are able to continue to utilise your support as we continue to grow our business."
- Dave Thomson, Director, Universal Site Monitoring
"I really have to thank you for all the extra effort phone calls, emails and texts you have put in getting me over the line with getting included in the Australian Military Sales office Catalogue. Like how to go about talking to the Manager of BAE Systems you know in Adelaide for their supporting of the re-deployable pit system. Now the linking up with your contacts in the USA and Canada (Start Up Canada) for my upcoming trip. This is an area I really struggle with, how to approach contacts for meetings and interviews etc. I think it is a common trait of we inventive minds, not great communicators. So your great positive outlook and enthusiasm really gets me motivated and confident. Thank you for your help with my presentation - Sharon is updating it now based on your feedback and I'll send it to you soon."
- Hew McDonald, Founder and CEO, Evolving Workshop Technologies
"I recently met with and had continued correspondence with Helen Ujvary that was facilitated by the Department of Trade, Business and Innovation, Business and Innovation NT. I would like to take the opportunity to thank the department for making this possible as Helen's knowledge and resources are invaluable to a start-up company like ours. She has already connected us with various people who are vital to the success of our project in the next stage. Helen has a professionalism you don't come across very often and I am grateful to the department for allowing people like Helen to be available for consultation in Darwin. The department has already helped our company's success in many ways and facilitating meetings with professionals like Helen Ujvary further increases our ability to succeed as a Darwin start-up company."
- Joshua Muirhead, Founder, XlockTech
"Thanks again for the length of time that you spent with us on Thursday night. It was quite an in depth discussion. Once again thank you for assisting us on this journey and we look forward to maintaining the relationship into the future. When final approval is given I will forward you the finished document for further discussion and ideas."
- Paul Bailey, Enterprise, Development and Foundation, St Phillips College
"Just wanted to quickly thank you for all your work with relation to the help you have provided us. Being a start up its often difficult to know how to approach situations. Your expertise and connections have definitely helped us in making better decisions and meeting the right people."
- Anthony Pizanias, Co-Founder, Mobi
Last updated: 30 July 2018